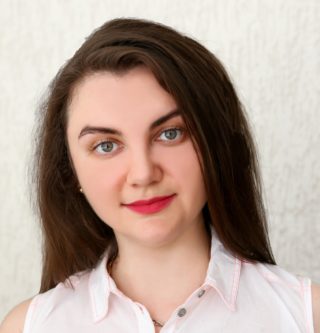 MOZGOVA Olena Oleksandrivna – Ph.D. in Pharmaceutical Sciences, Associate Professor of Inorganic and Physical chemistry department.
In 2004 she finished the National Technical University of Pharmacy with honours. In 2009 she graduated from the National University of Pharmacy, specialty «Pharmacy».
In 2012 she continued her education as a full-time postgraduate student in the National University of Pharmacy (15.00.02 – pharmaceutical chemistry and pharmacognosy) and finished in 2015. In 2016 she defended her thesis for a Ph.D. degree in Pharmacy on the topic «Voltammetric determination of antimicrobial compounds on the basis of peroxide substances using carbositall electrode » (scientific supervisor – Doctor of Science in Chemistry, Professor Mykola Ye. Blazheievskiy).
Since 2004 she works at the Physical and Colloid Chemistry Department of the National University of Pharmacy – as a senior laboratory assistant (2004 – 2015), assistant (2015-2020), associate professor since 2020. From 2009 to 2010 she worked in the «CRA №28», as a pharmacist-intern.
Advanced Training: the Institution of Higher Learning "KROK University of Economics and Law" under "Information and communication technologies of distance learning: e-tutor" (2016); "School of professional skills for higher education institution lecturers"(2017), "Methodologist School of National University of Pharmacy" (2017); "Ukrainian speaking club" (2018); Institute for Advanced Training of Pharmacy Specialists (2018). She completed the foreign language course (Medical English) at the Linguistic Center of the Faculty of Foreign Languages of the V. N. Karazin Kharkiv National University (2010). She completed an internship at the Lublin Medical University (Lublin, Poland). She is pursuing a master's degree of the G. S. Skovoroda Kharkiv National Pedagogical University, Faculty of Foreign Philology.
She is the author of over 70 papers, including 20 manuals and guidelines, 3 patents, 20 research articles, 29 conference proceedings.
She teaches disciplines: "Physical and colloid chemistry", "Theoretical bases of dosage form technology", "Medical sorbents" for students of specialty "Pharmacy", "Clinical Pharmacy", "Technologies of perfumery and cosmetics", "Technology of pharmaceuticals".